FARM FANTASTIC EXPO
5 – 7 July 2019
CABOOLTURE SHOWGROUNDS
If you're in the market for new farm machinery, stock handling equipment, an off-road vehicle, caravan, camper trailer or tank then make sure you come to the 2019 Farm Fantastic Expo. There's a tonne of entertainment on offer for the whole family including cooking shows, an animal farm and jumping castles, plus the much loved working dogs and horsemanship demonstrations. Make sure you keep an eye out on the official website and Facebook page for prizes and competitions – you never know what you might take home.
 Free weekend passes available, just ask when you leave
No dogs or pets are allowed. View the Conditions of Entry.
Friday 5th July:
8:30am-4:00pm
Saturday 6th July:
8:30am-5:00pm
Sunday 7th July:
8:30am-4:00pm
Countdown To The 2019 Farm Fantastic Expo
OFFICIAL EVENT GUIDE
The 2019 Farm Fantastic Expo Event Guide will be distributed within the region prior to the event. Extra copies will also be distributed at the event entrances during the event. The Guide contains all the essential information you need to know about the event.
Poolwerx are giving visitors to the 2019 Farm Fantastic Expo the chance to WIN a 5 SEATER SPA valued up to $11,000! The Mt Cascade Banff Spa Deluxe Package provides comfortable seating for 5, along...
read more
One lucky visitor to the 2019 Farm Fantastic Expo will be going home with $455.00 in value of Penergetics Products! Thanks to Health For Life PenergeticsThe prize includes: 1 x 'Aquakat s' portable...
read more
LATEST EVENT NEWS AND FEATURED EXHIBITORS
July this year, JVA Electric Fencing will be hosting a stall at Farm Fantastic for the third year running, and we hope to see you there! Until then... a little insight on who we are. Since our...
read more
LATEST EVENT ENTERTAINMENT
Daily shows at 9:00am, 11:00am & 1:00pm Catch daily cooking demonstrations with Celebrity Australiana Chef Peter Wolfe at the Farm Fantastic Expo! Peter Wolfe, "Australiana Chef", uses the...
read more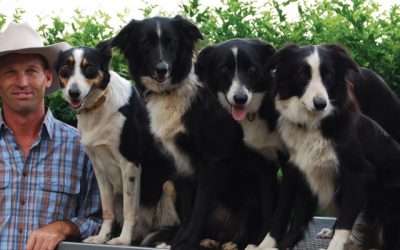 Daily Entertainment Times 10:00am, 12:00pm & 2:00pm CJF WORKING DOGS – A man and his working Border Collies doing what they love. Located in the Gold Coast Hinterland, Craig Freestone and his...
read more
Daily shows at: 9:30am, 11:30am & 1:30pm Justin is a horseman from Queensland, Australia who is passionate about educating and inspiring people through effective horsemanship.  Justin considers...
read more